The 30th Methodological Seminar "Security, Violence, and Vulnerability from a Biblical Perspective"
December 16, 2022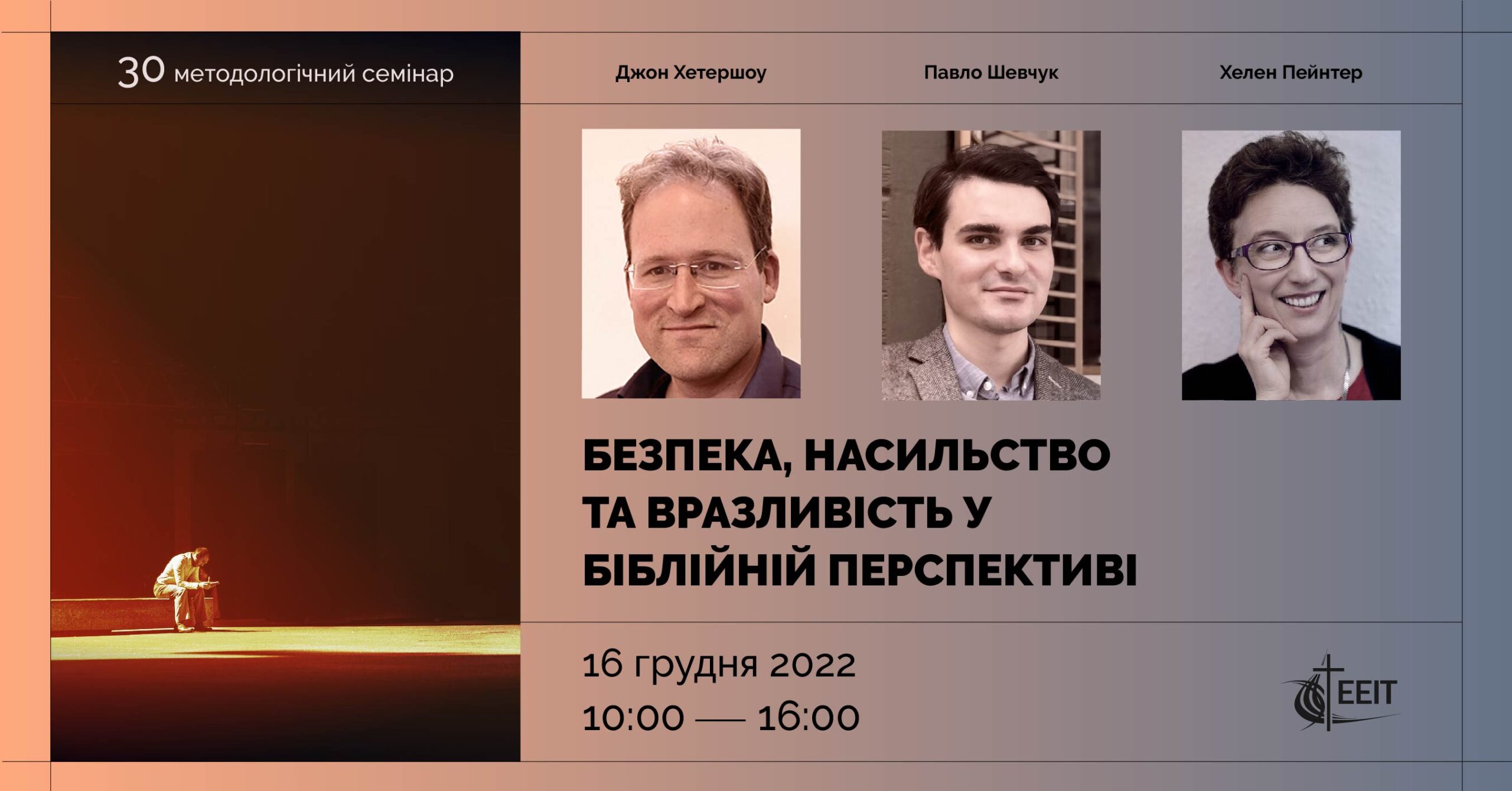 The Eastern European Institute of Theology continues the series of methodological seminars on "Theological and Ethical Challenges of Wartime," which includes the following seminars: "Historical and Contemporary Approaches to War and Peace in Christianity" (November 4, 2022), "Security, Violence and Vulnerability in a Biblical Perspective" (December 16, 2022), "The Language of the Bible, War and Peace" (January 27, 2023), "Biblical Theology of Reconciliation and Restorative Justice. The Potential of the Christian Community in Building Peace in a Divided World" (March 17, 2023).
The second Seminar of this series "Security, Violence, and Vulnerability from a Biblical Perspective" will be held on December 16 online.
Speakers
Helen Paynter, Ph.D., Tutor in Biblical Studies and Coordinator of Theological Education, and Director of the Centre for the Study of Bible and Violence, Bristol Baptist College. Title of her presentation: Desire, Shame, and Mimesis: Contemporary and biblical models of violence in conversation.
John Heathershaw, Professor of International Relations, University of Exeter, a specialist on the armed conflicts and political economies of post-Soviet Central Asian states and the co-author of Dictators Without Borders (Dictators Without Borders, Yale University Press, 2017). He will introduce the main arguments of his forthcoming book *Security After Christendom, and present a chapter from it on the Christian Realist tradition in International Relations and Theology.
Work of the Seminar
10.00 - 11.30 – Presentation by Helen Paynter
11.30 - 12.00 – break
12.00 – 13.30 – Presentation by John Heathershaw
13.30 – 14.30 – break for lunch
14.30 – 16.00 – Presentation by Pavlo Shevchuk
Interpretation
Simultaneous Ukrainian translation of all English lectures will be provided.
Seminar Price
Registration
ГО «Євангельська акредитаційна теологічна асоціація»
UA373052990000026005000706498
АТ КБ "ПриватБанк"
ЗКПО 38610744
МФО 305299
Purpose of payment: Charitable donations
You can support our projects with a credit/debit card or eCheck/Bank Transfer via the payment form of our partner, Connect International https://eeit-edu.info/donate/ or through the abovementioned payment manner.