The 28th Methodological Seminar "Bible. Art. War"
April 1, 2022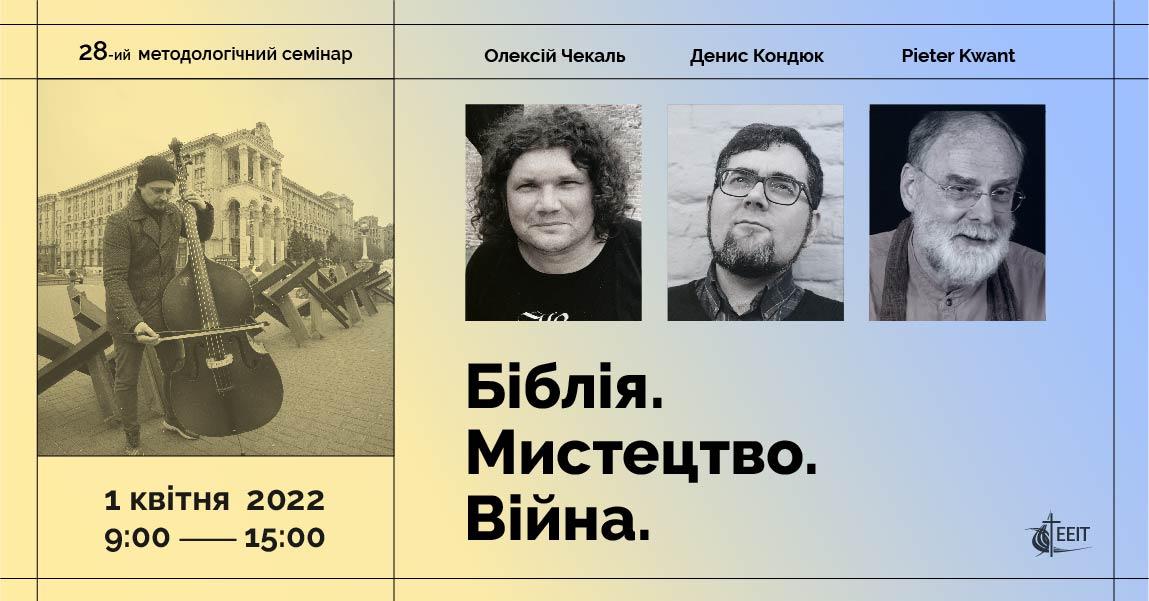 The 28th Methodological Theological Seminar of the Eastern European Institute of Theology will be held on April 1, 2022 online (ZOOM).
We want to remind you that the general topic of our methodological seminars in 2021-2022 is "The Bible in the Modern World." The main goal is to explore different approaches to interpreting Scripture and establish the links and interactions between the interpretation of Scripture and scientific discoveries, cultural trends, and important events in society.
The topic of this seminar is "Bible. Art. War." Art and theology have always been in dialogue with each other and with the most profound questions of human existence. Yet, today, people are experiencing trials of war and injustice, accompanied by constant anxiety and pain. Does theology respond to human suffering, and can art offer an actual path to healing?
Speakers
Pieter Kwant - Literature Director of Langham Partnership International, and publisher of Langham Creative Projects. He has been publishing books for more than fifty years, mainly in the theological sphere, and is interested in various fields of art, music, and cinema. Author of the book "Inside the Rainbow: Seeing and Doing the Book of Revelation."
Oleksii Chekal - designer, calligrapher, art critic. Art director of the graphic design studio PanicDesign. He specializes in the complexities of combining design, calligraphy, and art studies in religious or scientific projects.
Denys Kondyuk - theologian and film reviewer, a graduate student at the Theological Faculty at Charles University (Prague, Czech Republic), Head of the Department of Missiology at the Ukrainian Evangelical Theological Seminary.
Work of the Seminar
9.00 – 11.00 – Inside the Rainbow: a case for visual exegesis | Pieter Kwant | in English
11.00 – 11.10 – break
11.10 - 12.50 - Beauty and Unbeauty as a Moral Choice in the Context of Religious and National Narratives | Oleksii Chekal | in Ukrainian
12.50 – 13.00 – break
13.00 – 15.00 – Theology of Beauty as Theology in Act | Denys Kondiuk | in Ukrainian
Registration
You can support our projects with a credit/debit card or eCheck/Bank Transfer via the payment form of our partner, Connect International https://eeit-edu.info/donate/ or using details:
ГО «Євангельська акредитаційна теологічна асоціація»
UA373052990000026005000706498
АТ КБ "ПриватБанк"
ЗКПО 38610744
МФО 305299
Purpose of payment: Charitable donations