Joshua Searle and Dnipro Hope Mission About Their Trip to Ukraine
Dnipro Hope Mission co-founder and trustee Joshua T. Searle shares reflections following his first trip to Ukraine since the Russian invasion, where he met Baptist ministry partners serving on the frontlines.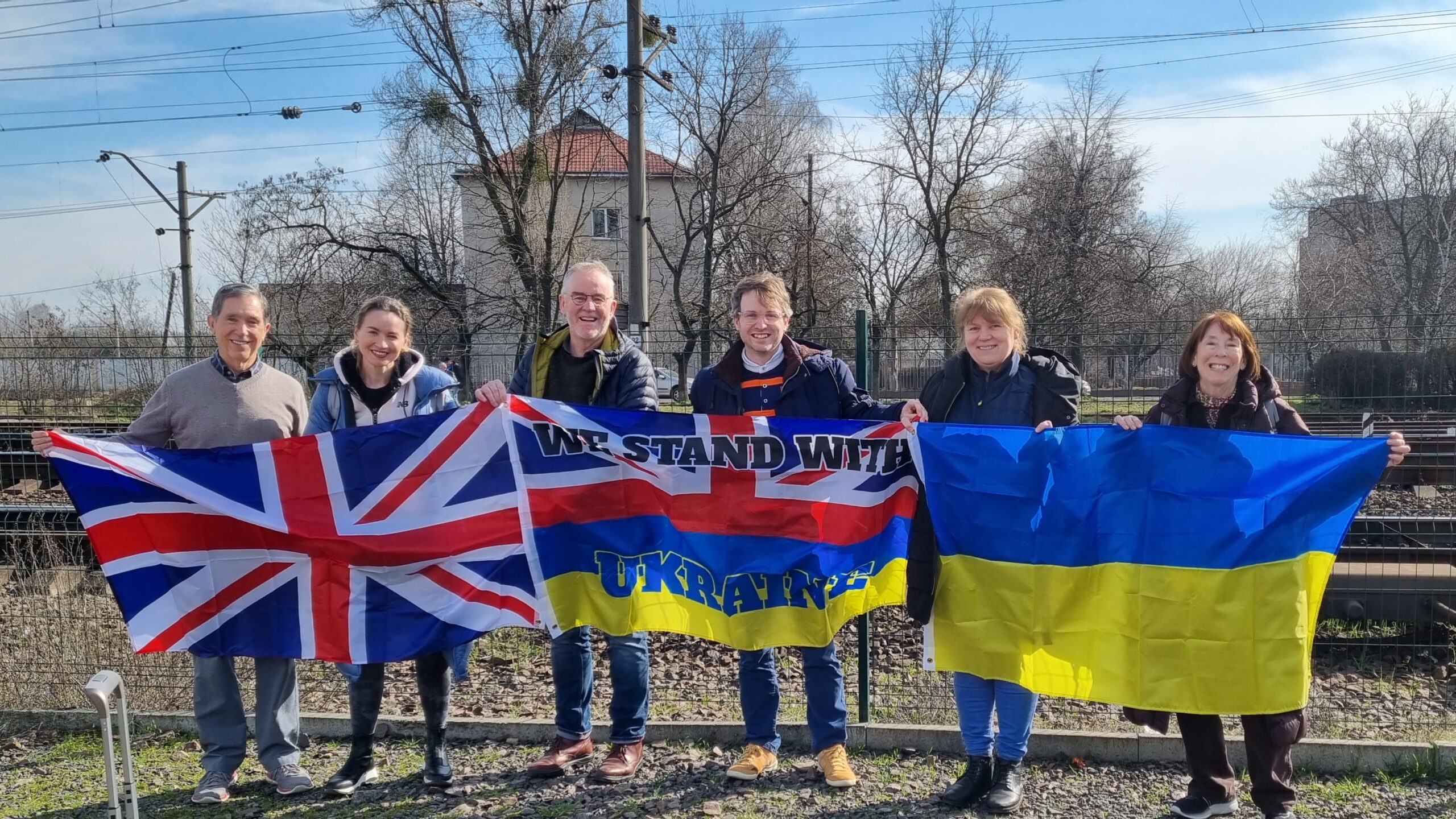 I recently returned from Ukraine, where I led a small team on a trip to visit ministry partners linked to our UK-based charity, Dnipro Hope Mission. Although I have visited Ukraine dozens of times, this was the first time I had been since the full-scale Russian invasion in February 2022.
The few days that we spent in Ukraine made a huge impact on all of us. It was a phenomenal and life-changing experience and a deeply moving time of fellowship. It was the first time all our ministry partners came together to meet, share, reflect and to give each other comfort and encouragement.
Given that the UK government advises against all travel to Ukraine, we took a calculated risk with our decision to meet our friends in-person. We were able to meet in a location that was relatively unscathed by the war. After a long train journey, we crossed the border and were warmly greeted by our gracious host, Pastor Valeriy. We had booked a hotel that had enough rooms for all 23 ministry partners, as well as the six of us on the DHM team. We were treated to a sumptuous meal and finished the evening together in prayer and worship.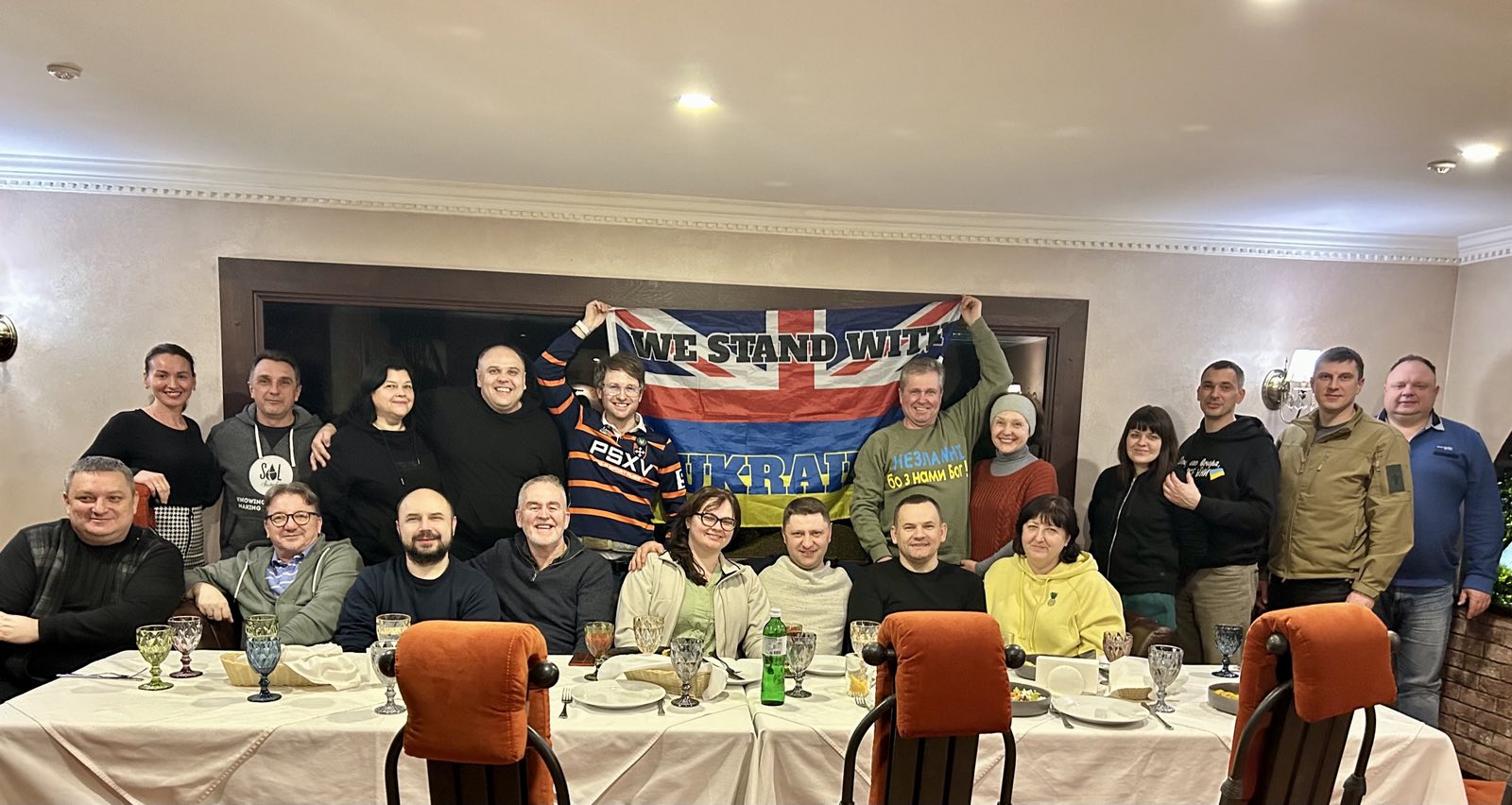 The joyful reunion of the DHM Team and the Ukrainian ministry partners on the first evening together.
It was a very emotional reunion with our Ukrainian friends for whom we'd been praying constantly, but whom we had not been able to meet for over a year.
One such friend was Pastor Oleksiy, who was a Mennonite pastor, but who now works as a military chaplain on the frontline, offering prayer and pastoral care to hundreds of Ukrainian troops. Oleksiy was in grave danger when his town was occupied by the Russian army. Thankfully, he managed to escape. We were very glad to see him safe and well.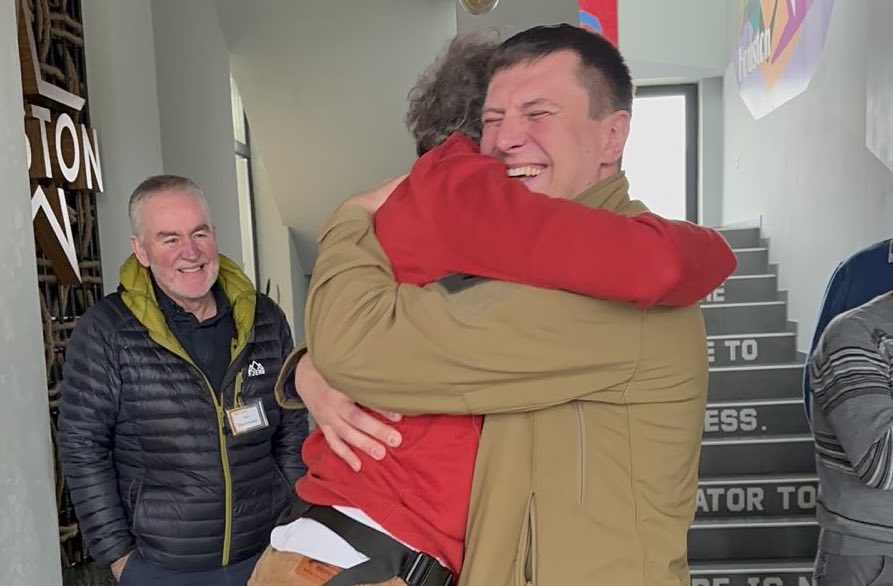 The joyful meeting of Joshua and Oleksiy.
Among our ministry partners are several Baptist ministers from Dnipro and Donetsk regions who are serving as chaplains to the Ukrainian military. We gave our Ukrainian friends an opportunity to share about how they had experienced the past year since the Russian invasion and we discussed how we could best support their work in Eastern Ukraine.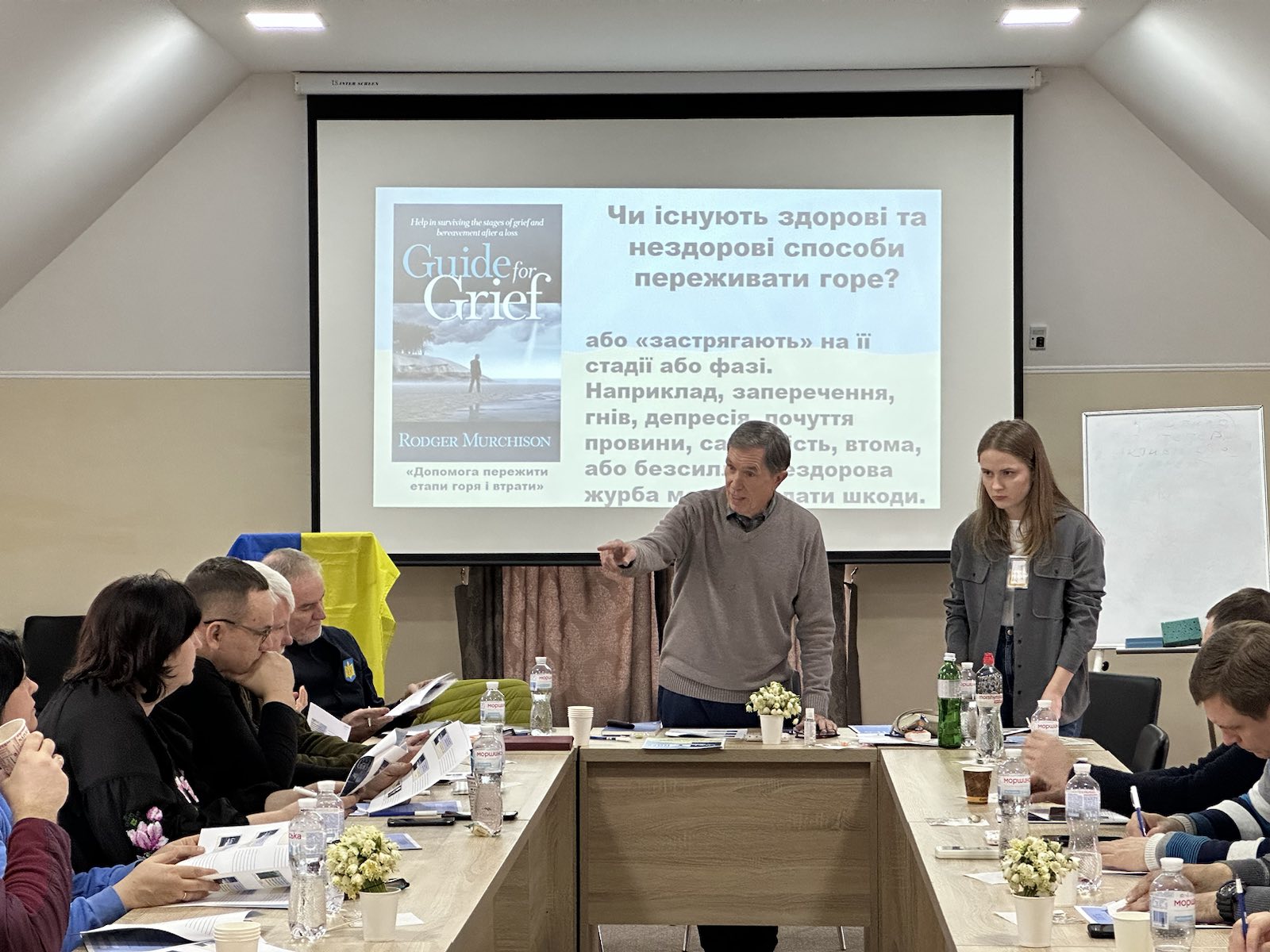 DHM Team Member the Revd Rodger Murchison leading a session on "How to Deal with Trauma."
We wanted to give our ministry partners a safe space to share their trauma. Many of the pastors we met were clearly traumatised by their experience of the past year.
What struck me was just how much the war dominated every conversation and every prayer. It was heartbreaking to hear the tearful testimonies of Baptist pastors on "line zero" (the point of direct contact with the Russian invaders).
One Baptist pastor shared how he had comforted a mortally-wounded young soldier, praying the last rites for him as the young man, screaming out for his mother, bled to death in his arms.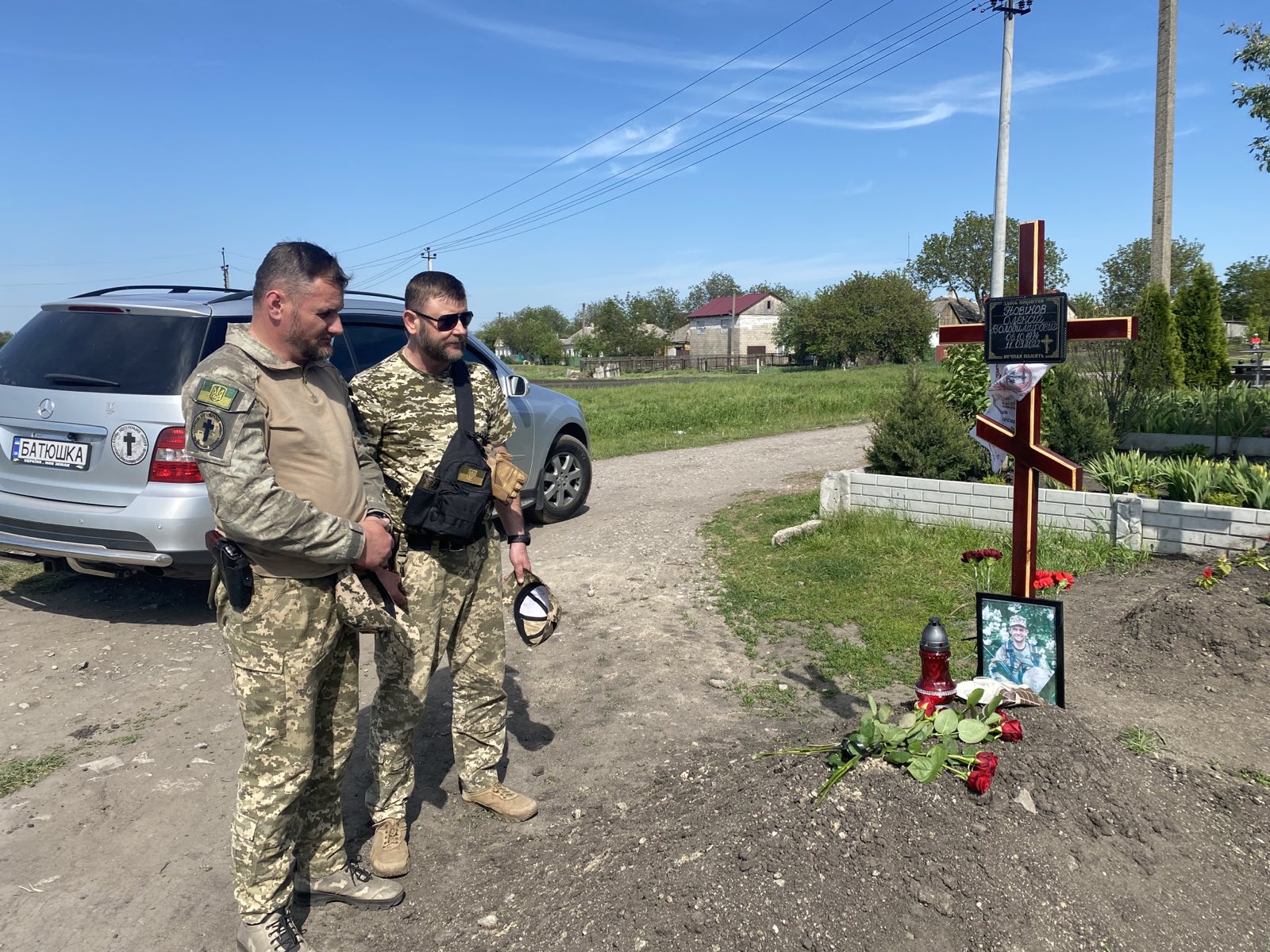 Pastor Sergei R. and his brother mourn the loss of the commanding officer of the unit of soldiers under their care.
One of our partners, Pastor Serhii Sizonenko, from a Baptist church in Dnipro, shared with deep emotions about his young son, who was serving in the Ukrainian army and who had recently suffered a serious concussion when a Russian shell exploded nearby, killing another soldier who was standing just yards away from him.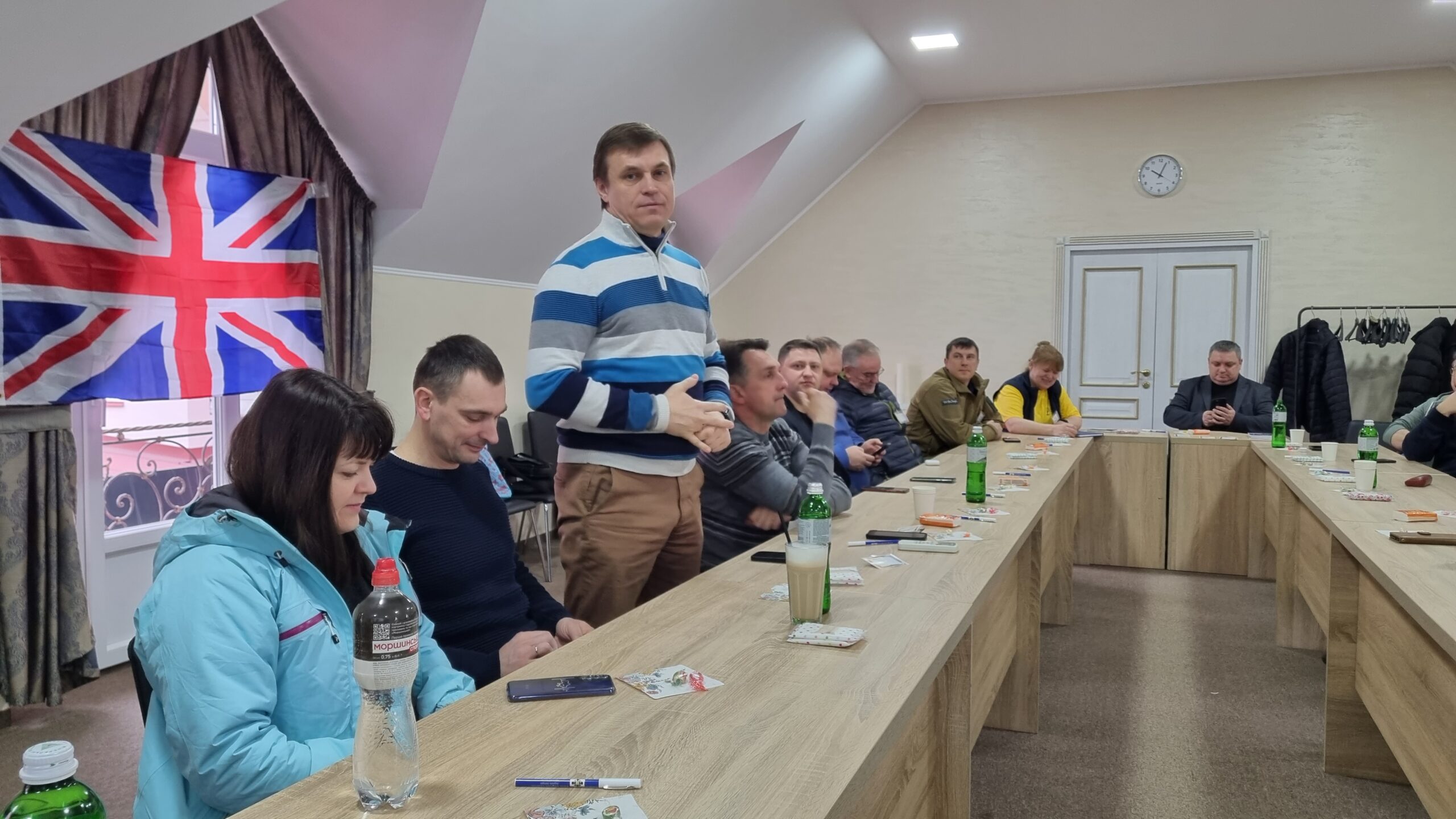 Pastor Serhii Sizonenko, Regional Minister of the Dnipro Region of the Ukrainian Baptist Union, shares about his son, Mark, who is serving in the Ukrainian military.
Another of our ministry partners, Pastor Sasha, shared about his recent experience of serving as a military chaplain on the frontline in the town of Bakhmut. He had helped to extract critically-injured Ukrainian soldiers to a field hospital, located just behind the main frontline in the town.
In the hospital, he had seen young men in the prime of their lives arriving into the hospital with the most horrific injuries. Sasha's role was to be on stand-by in the hospital operating theatre, waiting in case the surgeons called him over to say that, unfortunately, they could not do anything more to help, and asking Sasha to pray for the dying soldier.
As Sasha was sharing, I made a note in my journal: "Sasha and our friends on the frontline in Eastern Ukraine are experiencing a form of living hell on an almost daily basis. They need our support and solidarity."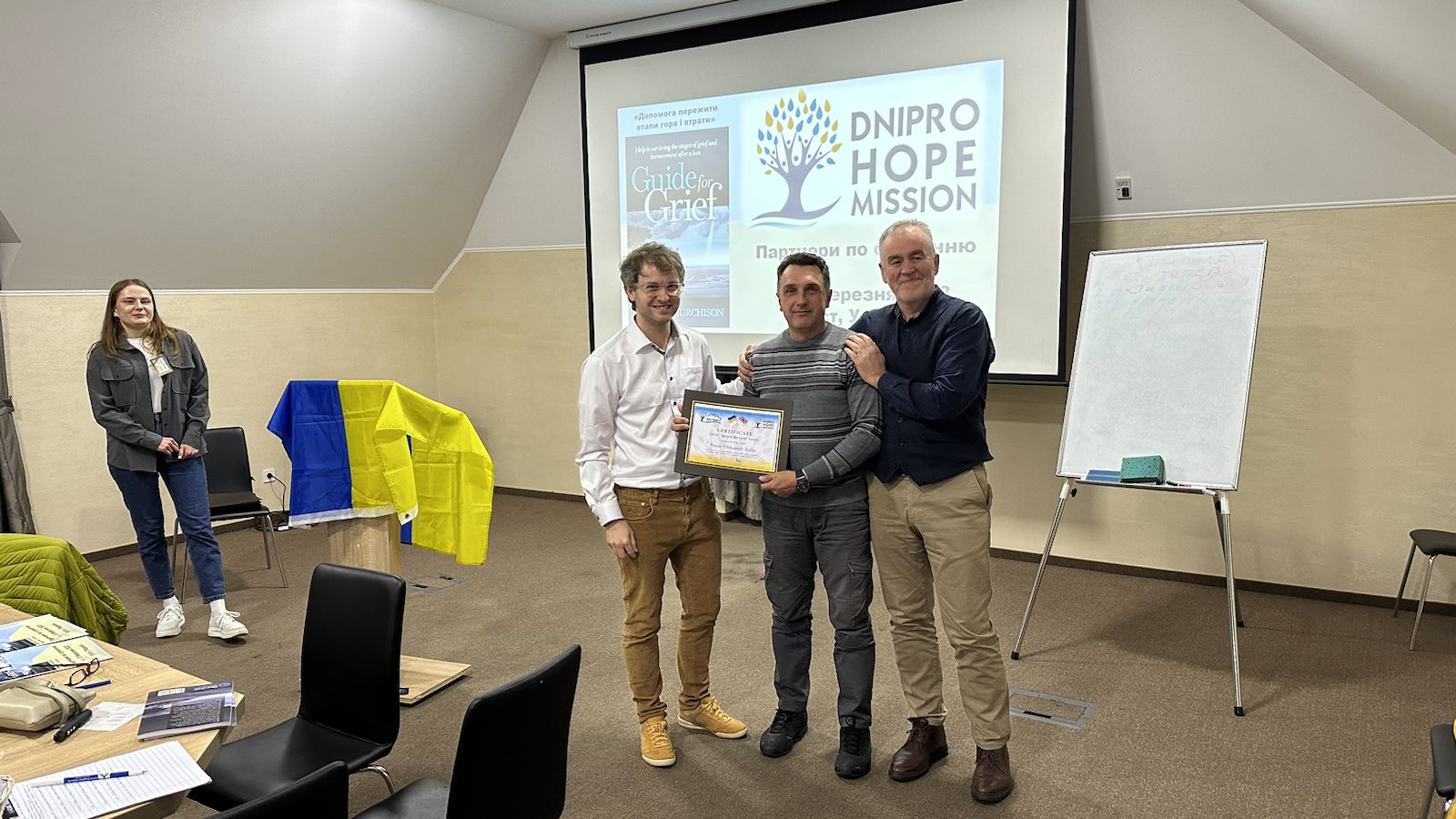 Pastor Sasha was presented with a "Hero of the Faith" award in recognition of his courage and service.
Amid the poignant times of sharing and reflecting on the war, we endeavoured to punctuate our time of fellowship with moments of fun and enjoyment. On the Saturday afternoon, we made an excursion to a local Ukrainian restaurant, which had a collection of fancy-dress costumes in the style of traditional Ukrainian village life.
One of the most poignant moments of the trip for me was stepping back from the group and observing our ministry partners trying on the costumes, laughing and sharing jokes as they had their photos taken in the fancy dress. It occurred to me that these friends had probably not had much to laugh about over the past year or so.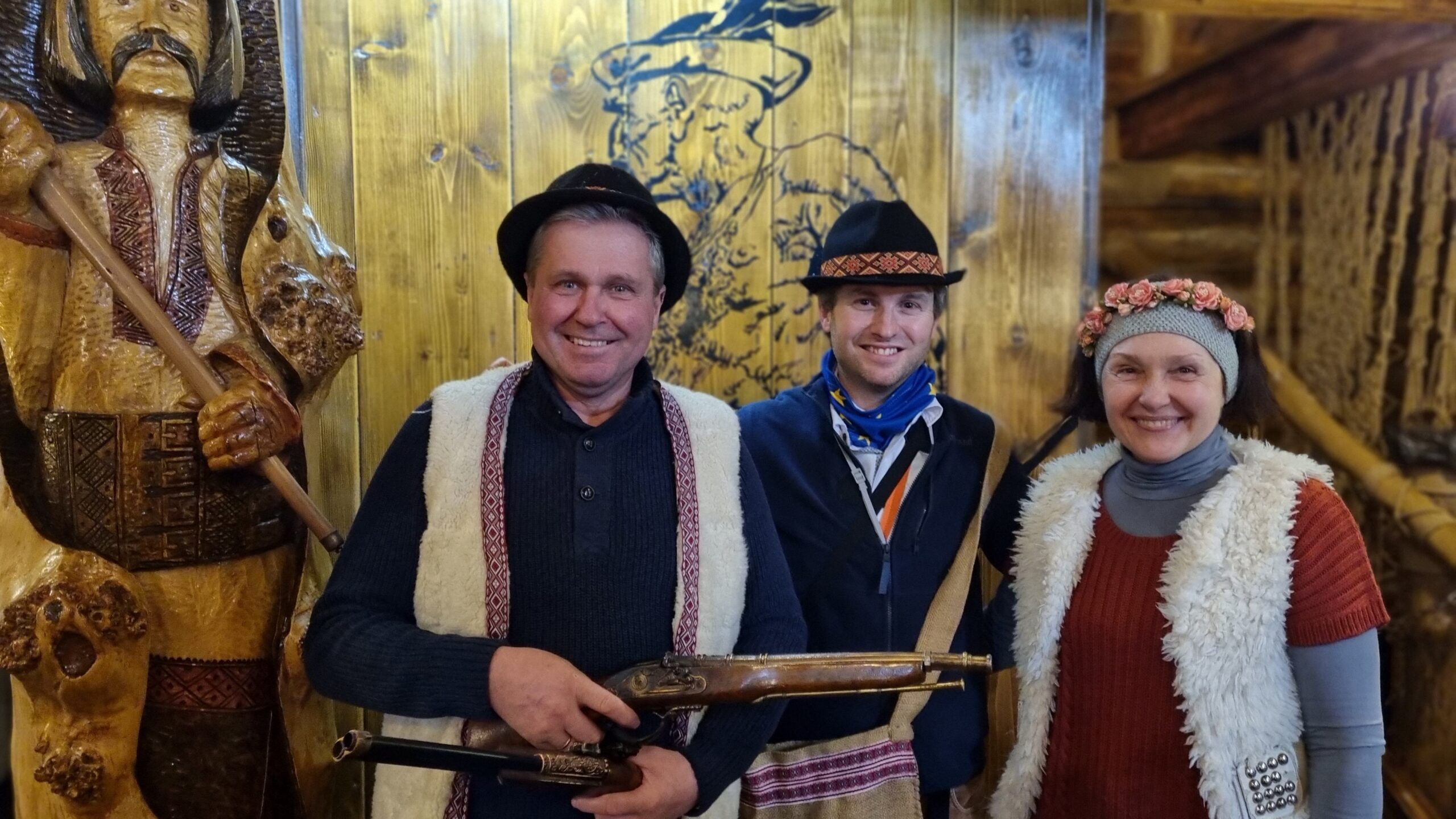 Joshua enjoys a light-hearted moment with Pastor Oleksandr and his wife Julia. Oleksandr is Senior Pastor of Tsarichanka Baptist Church. He looks after critically-ill patients in a nearby care home in Eastern Ukraine.
On that Saturday evening, we presented our Ukrainian partners with certificates that honoured their courage and heroic efforts to save countless lives and to ease the suffering of thousands of people whose lives have been blighted by the barbaric Russian invasion. The certificates were professionally designed and they each bore the signatures of the President and the General Secretary of the Baptist Union of Great Britain.
The DHM team was pleasantly surprised when our Ukrainian hosts presented us with a large Ukrainian flag upon which were written short notes of thanks and greetings from soldiers, medics and chaplains who were serving in a unit from the city of Dnipro. The unit had recently been involved in the defence of Bakhmut.
Misha and his wife, Tanya, presented the DHM team with a flag that had been signed by medical staff, chaplains and troops of a Ukrainian army unit from Dnipro.
I can't remember ever having spent such a moving and encouraging time of Spirit-filled Christian fellowship as that which we enjoyed with our Ukrainian friends that Saturday evening.
On the Sunday morning when we were in Ukraine, our hosts invited us to participate in a service at a local Pentecostal church. It was powerful to stand alongside Ukrainian brothers and sisters in the faith, and to worship God together – praising the Lord in the beautiful Ukrainian language!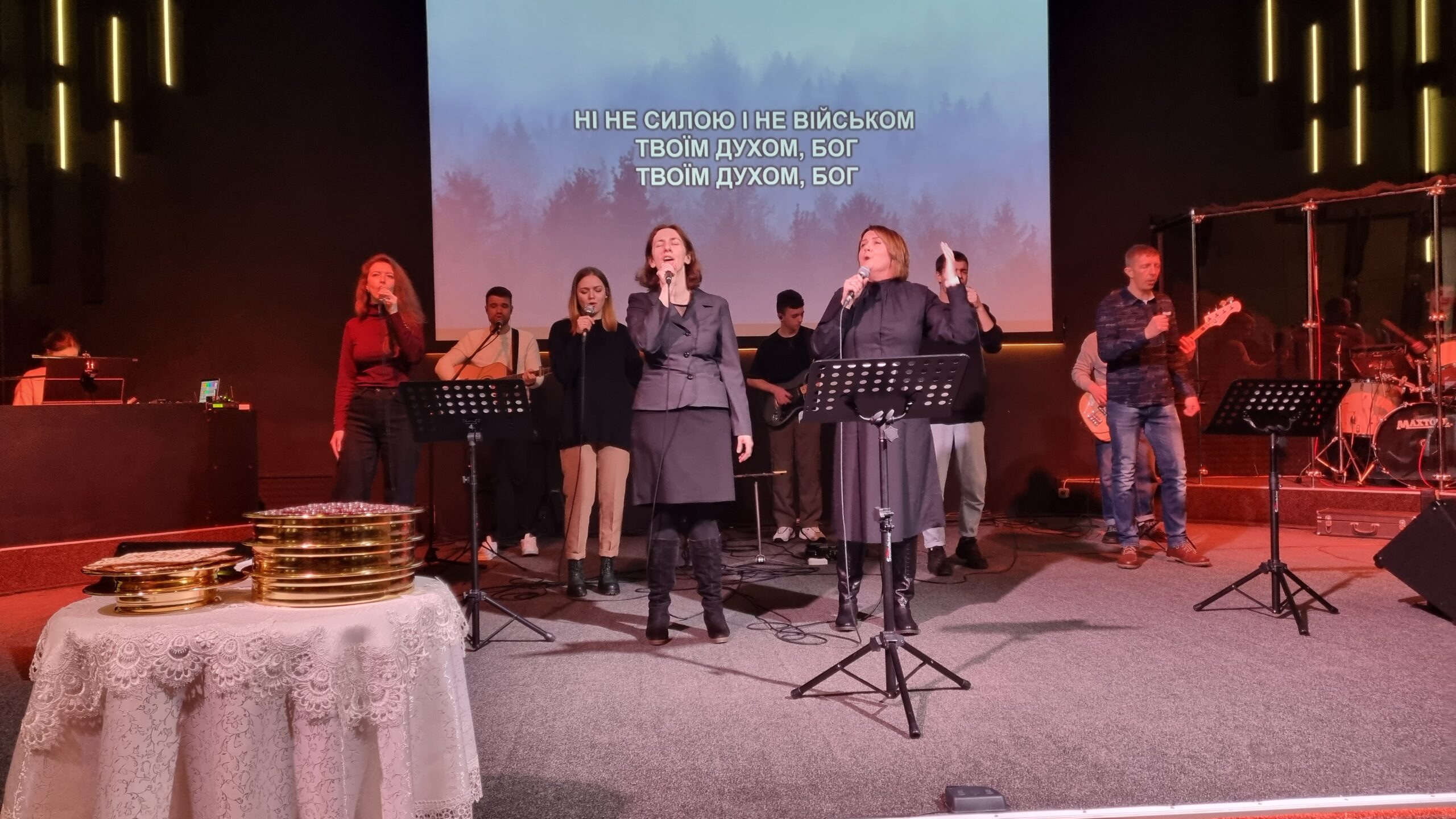 Worship during the Sunday morning service at our host's church.
One of the members of our group, Ian Stackhouse (senior pastor of Millmead, Guildford Baptist Church), preached a very moving and powerful sermon on Psalm 23 – "The Lord is my shepherd…"
Ian spoke a timely word of encouragement to our Ukrainian friends, reminding them of God's protection and saving power and the sufficiency of His grace when times get tough. Even when God's people in Ukraine were walking through a cold and dark valley of shadows, God had not abandoned his people, but was carrying them through the pain and leading them towards the light.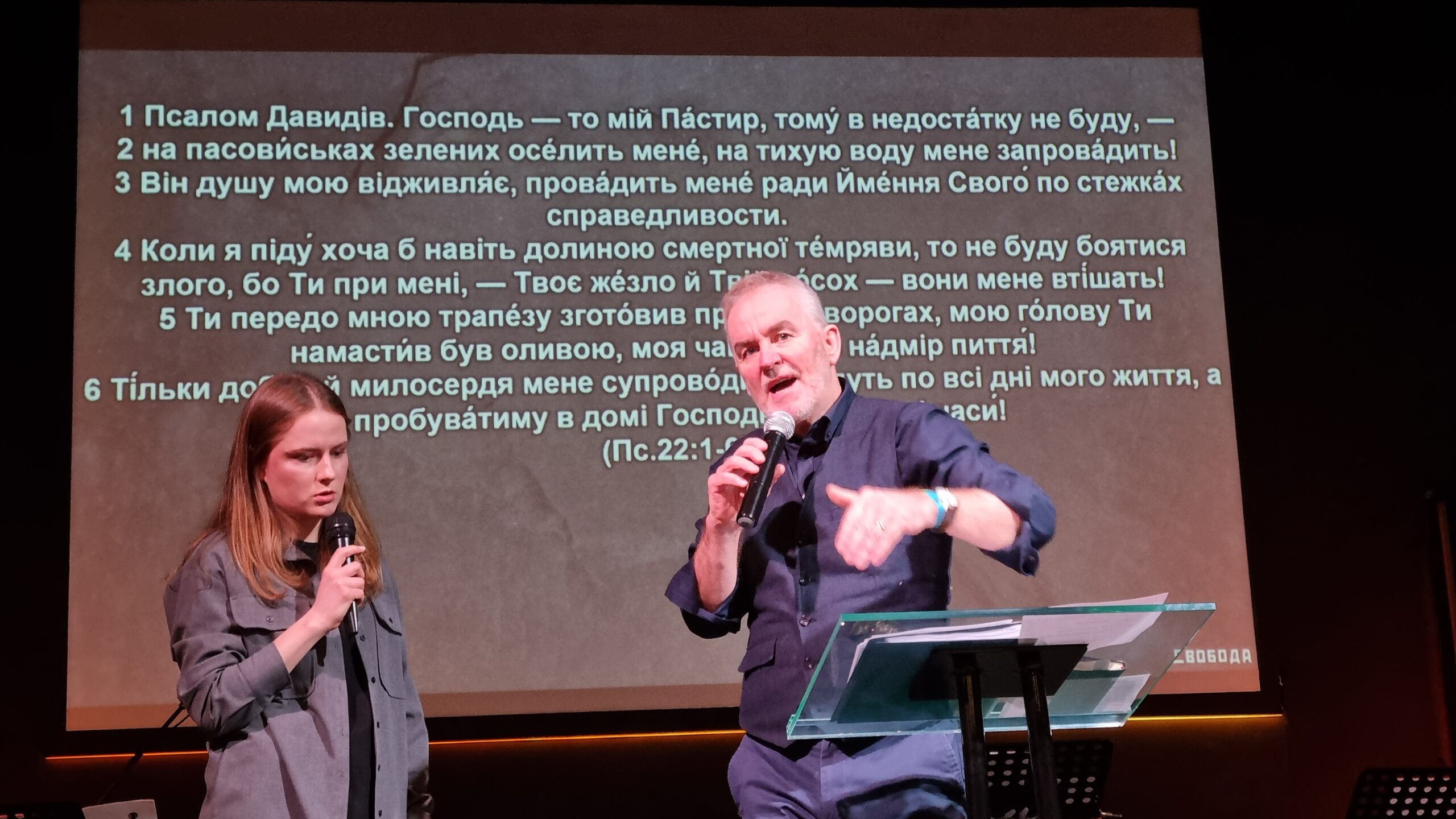 Ian preaching on Psalm 23.
As we prepared to leave Ukraine that Sunday afternoon, I was struck by the testimonies of our Ukrainian friends, who had said that the meeting had been like "balm to the soul." For most of our partners, this was their first opportunity since the start of the war to take a step back from attending to the needs of others, and to devote a few days to reflecting on themselves.
They had an opportunity to share not only their traumas, but also their hopes and dreams for the future of Ukraine. One pastor shared how despite the horrors of the war, more and more Ukrainian people were turning to God.
Several of our Ukrainian friends also said how much it meant to them to know that people from outside Ukraine (in the UK and the USA and other countries) were standing in solidarity with them and praying for them every day.
The trip left me with several impressions. I was grateful for the remarkable DHM team that had been willing to take a calculated risk in travelling to Ukraine. Each person played their part magnificently and responded to our Ukrainian partners with a depth of wisdom and compassion that only comes from the Holy Spirit. Yet these outcomes would not have been possible without the prayerful support of the whole DHM team, including our many friends and supporters who were praying for us while we were in Ukraine.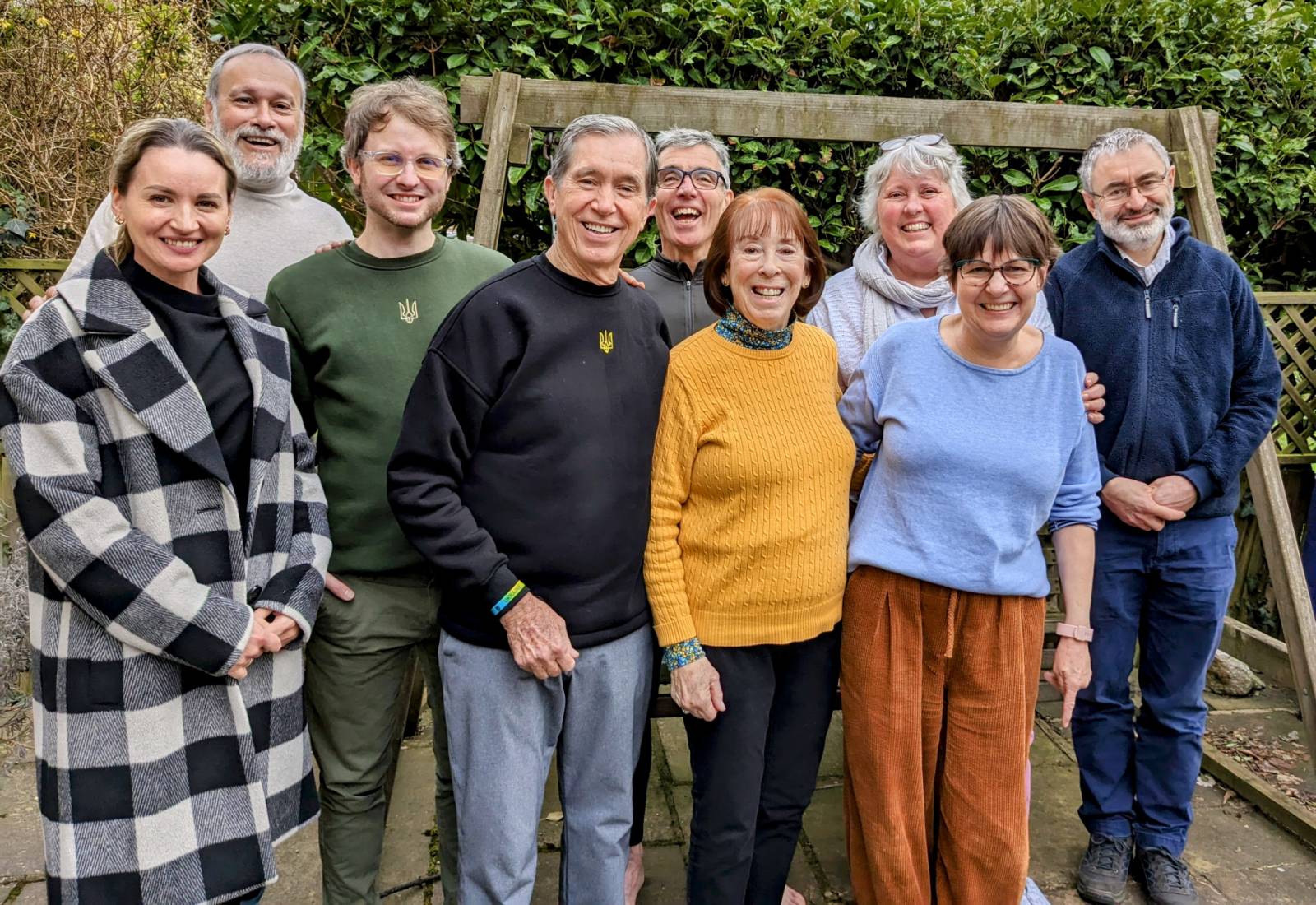 The Board of Trustees of Dnipro Hope Mission. DHM is blessed with an amazing team of trustees and volunteers.
Above all, I was grateful to God for each of the friends that we met in Ukraine. My admiration for the people of Ukraine had always been enormous, but after the trip it had become boundless. I pledged myself again to do everything I could by God's grace to love and serve His people in the beautiful country of Ukraine, which has become my spiritual home.
The trip has confirmed my sense of God's call to serve Ukraine.
Although Ukraine no longer features in the news as often as at the start of the war, the needs today are just as massive and as urgent as at any time since the Russian invasion. I pray that Baptists in the UK and throughout the world will have the courage to stand with our friends in their costly struggle for justice and peace.
A short video of the recent trip which includes photos and footage of DHM's ministry partners can be found below: